How to Date Girls Online (Part 2)
Looking for more juicy tips on how to attract girls online? Well you've come to the right place. In the last article, my tips were to stimulate mental activity. Decide what you want to get out of online dating before you waste your valuable time. Now, if you've done the mental work, let's get started!
The first thing I'm going to mention is this: When setting up a profile that asks you what you're looking for, don't mark the box that says, 'looking to hook up' or 'not looking for anything serious.' The reason for this is that you will instantly be boycotted subconsciously from, well, all women.
Women already know that dick is available. (It's crass, but it's true.) If that is all you're looking for, they will pass on you. Even if all a girl wants is to hook up, she knows that she'll find a better guy if he is looking for more than just sex.
Okay, moving on. Lets talk about profile pics.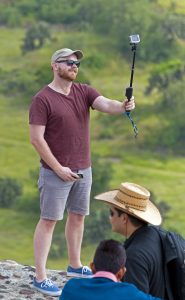 A majority of your pics should be of you and you alone. After all, you're not selling your friends, you're selling yourself.
Having said that, your first rule of thumb is this: severely limit the selfies.
You know when you're skimming through a chick's profile and all you see are selfies…and you think, "damn, does she have any friends? She probably doesn't have many. Either that or she is too self conscious to take pictures with her friends.." Well the same goes for women that look through your pics. If all she sees are selfies, the first and only thing that will run through her mind is,  "He doesn't have any friends." Even if that isn't true, that is what you will be communicating.
Your solution: Either hire a professional, or spend a couple hours with a friend taking pictures of you. What? You don't have any friends that will take photos of you? Ask your parents.
I hope you get this part. Because if you just had the thought of, "…I don't know who can take pics of me.." Then you're already dead in the water.
So, if not selfies, then what should your pics consist of?
This might be obvious to most people, but to those who don't know, your pics need to communicate that you:
A) Have friends
B) Are outgoing & have acquired life experiences
Having people in 1 or 2 of your photos is essential. If you don't get why, go back and read the stuff about selfies. It's the same concept. She needs to see that you have friends. Here's the thing though, don't overwhelm her pics of you and your friends, a couple will do. Remember, she is looking through YOUR profile because she is interested in YOU, not your friends. The only reason you've inserted a couple group photos is to show that you have friends. Besides, we've all had that experience looking through someone's profile pics and we can't tell who's who.
Another tip, stay away from adding pics of just you and a single girl. Regardless if she's 'just a friend' you should know how it's going to come across. Viewers will wonder if she's an ex. It's just like when you're looking through her pics and she's with another guy, how does it make you feel? (I hope you're seeing a trend here.)
Animals!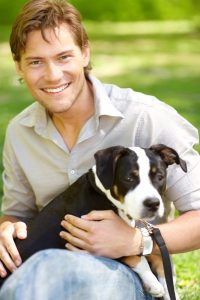 Yeah, you gotta have an animal pic. Cat or dog preferably. And no, it doesn't matter if it's yours or not, that's not the point. 90% of the time girls don't care. What they do care about is that you are lovable and you are kind to animals. If she asks whose animal it is, tell the truth. You just love your buddy's pet and its one of your favorite photos.
Next, she needs to see you having an experience, at a sporting event, doing something wild, or a trip you took. The reason for this is, when she's skimming through your profile, she will be thinking to herself on a subconscious level, if I date him, what kind of fun things will he do with me? If all of your pics are at a club… well, you get it. Plus, this also helps you in the long run. Say you two end up dating… it's not going to surprise her if you invite her to a baseball game because you posted a picture of yourself at a game from before.
So to wrap up our profile pic section:
1) Most of your pics should be you by yourself
2) No more than two selfies
3) Include a cat or dog in a pic
4) One or two pics with friends
5) You should be doing something fun in most of your pics
And remember, if you honestly don't think you have any good photos to stick on your profile, ask someone close to you to spend a couple hours taking pictures of you. (You should probably reward them with a free dinner after.)
Don't miss reading Part 3!