How to Date Girls Online (Part 3)
Today I'll be expanding upon my segment on how to date girls online. In the last two emails, I covered mentality, selecting the right pics, and some random do's and don'ts. In this portion, I'm going to be speaking about one of, if not the most important aspect of online dating; Setting up your bio.
Many guys can pick the right pictures and intuitively understand how to get grab a girl's attention, but many of them fail when it comes to the bio. I'm going to show you how to build a beautiful bio that conveys your interests without coming across as needy, desperate, or "salesy." After applying this lesson, you will start to have woman sending YOU message.
Alright, it's bio-time!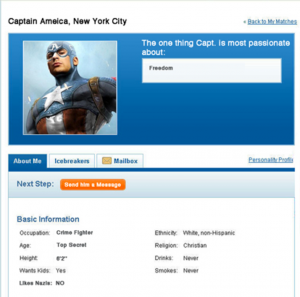 Now, you might not read bios, but women do. They do, because instinctively, they know that physical attraction isn't everything. Most guys don't get that. Who cares if this person is incredibly good looking? If a person doesn't know what they want in life, they become stagnant. A woman wants a man who takes action, who has dreams, and are on their way to realizing them. It's like in that show Shark Tank, the investors don't want to put their money into a cause that hasn't even been lifted off the ground. They want to have proof of concept. The seller needs definite direction. It makes the investing that much more enticing.

Here's what most people do wrong in their bios: They talk about who they are in a bland manner. It's okay to talk about what you like, but not in the way most people do. You see, most people write bios as if they are trying to sell themselves. And from one perspective, sure, that makes sense cause that's exactly what they are doing! But this approach is mediocre at best. It screams neediness. And any chick with two cents can spot it a mile away.
You ever read a woman's bio and it start like this?
"I'm looking for someone who likes to go hiking and spend time in the sun. I don't put up with drugs or neediness. I enjoy sex, but if that's all you're after, swipe left."
You see, in this sort of bio, the person is communicating their likes and dislikes, but not in a manner that looks needy. There is a word for this. It's called qualification. The person is literally weeding through all the undesirables by stating the qualities they wish the other person to have.
This is the difference maker.
Again, just to repeat myself, most people write in their bios qualities they have AS IF THEY ARE SELLING THEMSELVES. The winner is the person who knows what they want. They list the qualities they have, but in a way that suggests OTHER PEOPLE HAVE TO PROVE THEMSELVES WORTHY.
Now let's make the change.
Take a moment to brainstorm (and really get into this.) What qualities do you want in a lover? If you just want sex, it's a good thing to be honest with yourself, just know that this article does not deal with how to find regular sex. It deals with attracting people into your life that have similar interests as you, (that you can also have sex with.)
Got the qualities? Good. Now let's write it out. First of all, don't write anything about sex. Sex is implied. If you write about your sex interests, you'll get brushed off to the side.
Start your bio with "I'm looking for…" This has a big impact on the reader's subconscious mind. It shows that you have status.
Think of it this way, you are an employer and you are looking to hire a potential girlfriend. You have hundreds of resumes and you are looking for something particular in your candidates.
It gets a little tricky from my end now because I don't know what you want in a person. What I'll do instead is give you an example to follow.
"I'm looking for someone with a great smile. Not just any old smile, but a gal that knows how to light up the room. Her smile is fantastic because she knows she is fantastic. She has a keen, upbeat attitude and is always looking for the best life has to offer. And because she thinks of the best, she attracts the best. Personal development is a huge plus!
Next, this girl has to be able to throw down in a game of Mario Kart. She doesn't have to be Nintendo savvy, but the more she's willing to play, the more I will shower her with kisses.
Lastly, if she's anti-family, she's out. I love my parents and would do anything for them and I won't settle on a girl who wouldn't do the same.
If this is you, hit like, because we could make a great team."
BOOM!
To go over this example bio… I have communicated several things.
1) The girl must have a positive attitude.
2) She has to enjoy video games
3) She needs to care about her family
All the while, I have communicated that these are also MY INTERESTS and I did so without looking desperate.
Start integrating this into your bios and you will be amazed at how many girls message you, attempting to qualify themselves.